2013-02-01 02:50:27: Marion Cotillard Accepts Her Harvard Hasty Pudding Award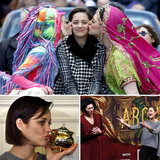 Marion Cotillard was in Cambridge, Massachusetts today to accept her Harvard Hasty Pudding Woman of the Year award with a parade. The celebratory ride through Cambridge was followed by a roast, where Marion received a traditional pudding pot. The honor went to Claire Danes last year, and their honorary male recipient will be named at a later date and recognized on Feb. 8.
Marion was also celebrated on the red carpet earlier this month. Marion attended the SAG Awards in an eye-catching blue and white Dior silk gown. Though Marion was nominated for outstanding performance by a female actor for her role in Rust and Bone, the best actress honor went to Silver Linings Playbook star Jennifer Lawrence. Marion nonetheless has a seal of approval from her husband Guillaume Canet. Marion and Guillaume kissed at The Grove last week while they shopped with their adorable 1-year-old son, Marcel.
Чтобы отписаться от этой рассылки, перейдите по ссылке